WHY DEVELOPING ROOTS PRE-K?

Developing Roots is a hands-on mathematics curriculum that encompasses number, measurement and spatial reasoning concepts. Teachers have been vocal in expressing their need for high-engagement activities to keep students challenged and excited–and we listened! We incorporate current research and learning trajectories to create developmentally appropriate lessons. The result is an easy-to-use curriculum that aligns teaching and learning goals.

Our curriculum helps students with sorting, communication, visualization, and problem solving while looking for patterns. Instructional activities are playful yet still address foundational content to optimize the learning process. Through play-based learning, we build a culture where communication, collaboration, curiosity, perseverance and 'Aha' moments occur every day.

In addition to student learning, our program builds teacher confidence with the above concepts. Our robust Teacher's Guide includes at-a-glance directions allowing teachers to quickly set up activities, easily engage students, and accurately assess student aptitude.

Research shows that high-impact learning occurs when professional development takes place in conjunction with the implementation of content. By using Developing Roots you receive that and more!
LEARN MORE
Components of the Program
Teacher Guide
(UOS 1- UOS 5)
Student Activity Book (SAB)
*Online Professional Community
Student Bundle-
(SAB, and playing cards) sold in Packs of 10
SAB can NOT be purchased individually in first year of adoption.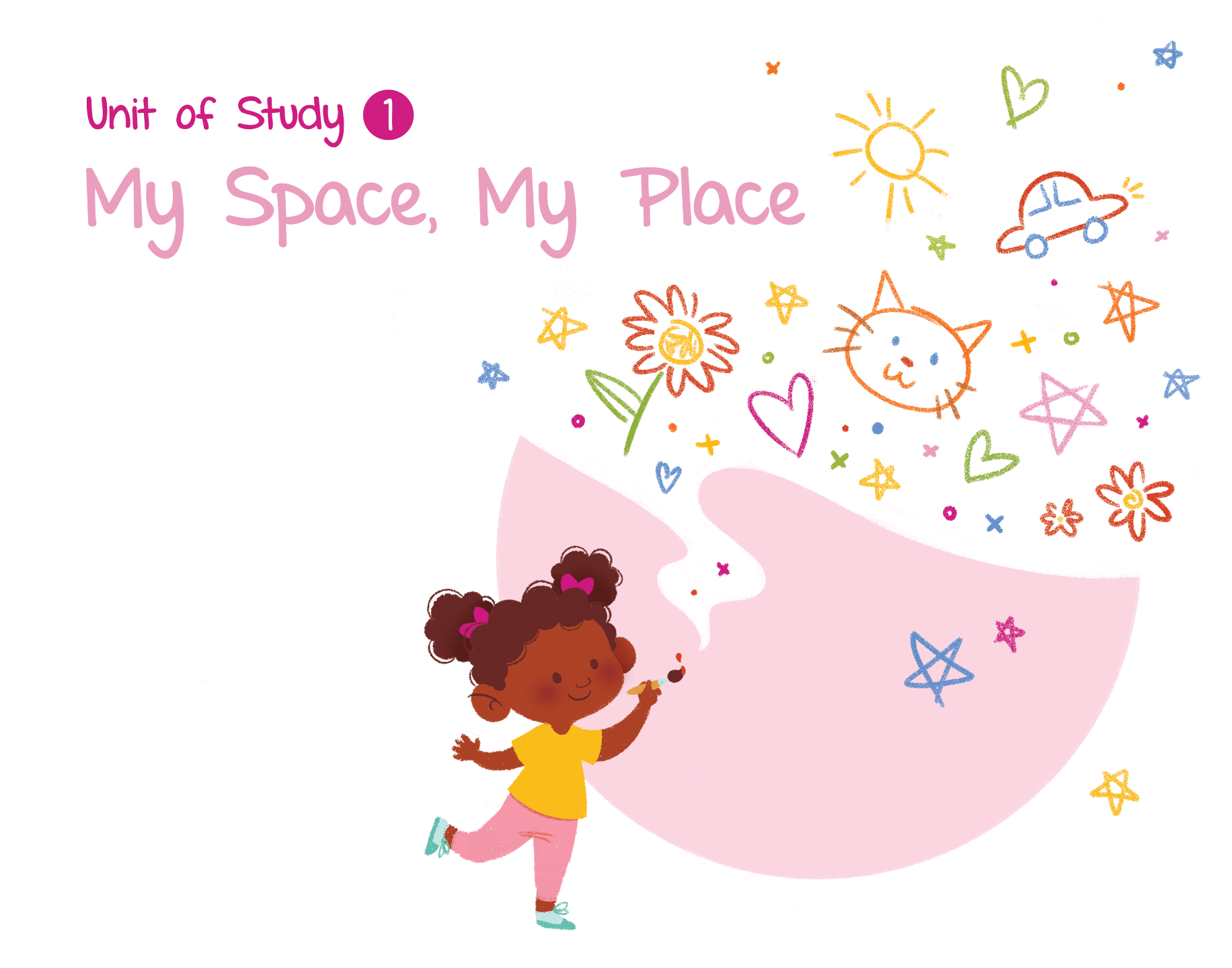 UOS 1 Overview
Students explore math concepts while learning more about themselves and their classroom community in Unit of Study 1: My Space, My Place (UOS1). The activities in this unit help children discover their own unique traits and explore attributes they share with peers while teachers lay the foundation for what math time looks, feels, and sounds like. Through modeling and questioning, teachers encourage students to express their thoughts and questions about the math they are exploring. In this opening unit, teachers introduce math routines such as choral counting activities and quick looks that will be incorporated into daily activities. The lessons in UOS1 explore math concepts in each of the major strands with the greatest emphasis on helping students develop a beginning understanding of number, number names, and numerals.
IDENTIFICATION OF A RELATIONSHIP
UOS 2 Overview
The lessons in this unit address standards in all of the math strands with a heavy emphasis on geometry and an introduction to constructing sets. Unit of Study 2: Explore Some More (UOS2) begins with students looking outdoors to learn more about the world around them. Through an exploration of weather, students learn to identify and compare attributes and to gather and represent data on graphs. While discovering some of the wonders of fall (leaves, apples, pumpkins, etc.) children practice their counting and comparing skills as well as pattern and measurement skills. In UOS2 students also investigate the differences between farm life and city life. The farm life lessons provide opportunities to represent data on a graph, use positional words to describe locations, and explore geometry with pattern blocks. While learning about city life, students build structures and learn to identify shapes and their attributes. At the end of the unit, storytelling activities facilitate the exploration of part/whole relationships and composing/decomposing sets. Finally, through graphing activities students learn to gather and organize data, providing further opportunities for counting and comparing sets.
IDENTIFICATION OF RELATIONSHIPS
ANALYSIS OF DATA INFORMATION
UOS 3 Overview
In Unit of Study 3: Helping Hands (UOS3) children explore math while learning about community helpers. Lessons in this unit are centered around firefighters, doctors, nurses, police officers, and mail carriers. There is also a focus on safety awareness as children practice numeral recognition by learning their own phone numbers and practicing pedestrian and traffic safety rules. UOS3 provides lessons in each of the math strands with an emphasis on sorting and identifying attributes, patterning, and number concepts. While the standards addressed are the same as in UOS1 and UOS2, the tasks are varied. The quick look activities in this unit require students to join sets to identify an "all together" total, and the patterning activities are more complex. The activities in the unit requiring children to identify common attributes and sort sets accordingly provide ample opportunities for students to count and compare quantities. Lessons in this unit also incorporate games for students to play, individually and with partners, to explore number concepts.
IDENTIFICATION OF RELATIONSHIPS
UOS 4 Overview
Winter Wonderings is the theme for the lessons in the fourth unit of study (UOS4). Students learn about animals preparing for winter by playing games, graphing data, and comparing animal tracks. They practice subitizing, counting, sorting, and patterning through purposeful play with winter clothing and a favorite wintertime treat, hot chocolate. Students also explore the big ideas of identifying common attributes, symmetry, and composing/decomposing sets through lessons about snowmen, snowflakes, and snowballs as they discover the wonders of a snowy day. All strands of math are featured in UOS4 with an emphasis on both making sense of numbers and the identification of relationships. Throughout these lessons, teachers encourage students to explain the reasoning behind their answers, participate in number talks, and evaluate their own work while allowing time for self-correction. Routines such as choral counting and quick looks are practiced further, and the new routines of counting jars and estimation jars are introduced.
IDENTIFICATION OF RELATIONSHIPS
ANALYSIS OF DATA INFORMATION
UOS 5 Overview
In UOS5 students explore math concepts while learning about nature and "what spring brings." Lessons about butterflies and caterpillars, which incorporate children's literature, songs, art, and fine motor activities, provide children with opportunities to practice counting, comparing sets, subitizing, sorting, and making patterns. Students delve into the key math concepts of collecting and organizing data and measurement while learning about plants and seeds and fruits and vegetables. A look into the life cycles of butterflies and flowers helps children learn to place objects and events in sequence and identify patterns in nature. Fine motor skills are practiced in UOS5 with pin pushing, clothespin clipping, and cutting activities. More complex hands-on activities such as planting seeds, making a fruit salad, juicing oranges, and building butterfly feeders and flower bouquets enable students to express their creativity while actively engaging in lessons. Activities in UOS5: What Spring Brings addresses math standards in all of the major strands: number sense, measurement, relationships and patterns, representing data, and geometry. Routines, such as counting jars, sorting jars, and choral counting, are extended by having children identify patterns as teachers record the counting numbers.
IDENTIFICATION OF RELATIONSHIPS
ANALYSIS OF DATA INFORMATION
Comprehensive Spiral Curriculum
The Concrete-Pictorial-Abstract(CPA) method of instruction sets a firm foundation which equips students with principles they'll need time and time again. Developing Roots ensures consistent exposure to critical concepts throughout the year which prevents any student from falling too far behind.
Students explore, collaborate, problem solve and reflect on rich tasks designed to build on current knowledge.
We energetically engage students as they make connections, discover patterns and develop generalizations which drives their mathematical roots even deeper, making more solid the foundations we're building.
When students are challenged by their investigation, the ability to communicate both the 'why' and the 'how' become critical means to evaluate what they know and how well they've learned. Developing Roots not only teaches kindergarten kids math it teaches them to explain what they've learned, how they arrived at their solution, and why it works.
Kindergarten "Developing Roots" Math Program
This year we adopted a new Kindergarten math program. Developing Roots is an innovative program designed to bring a foundation in Singapore math to Kindergarten students through child-centered experiences grounded in current research in learning and teaching.
To support distance learning with the program, the author of the program has designed a series of terrific videos as well as interactive and hands-on learning activities which our teachers are using to help teach our students the concepts of geometry and operations with numbers.
Many thanks to all of our Kindergarten teachers as well as our Math Support teachers, Ms. Liberman and Ms. Giorgianni, for providing these experiences for our students.
As the photos show, the students are very engaged in their math learning.
Article and photos provided by Dr. Carol Smyth
Read more
Developing Roots Curriculum is published by [Math]odology, an innovator in mathematics education. Since 2004, we've been dedicated to sharing the latest trends in mathematics while equipping teachers with necessary content knowledge to create a student-centered learning environment. When teachers are confident with the content, they naturally facilitate more effective learning.
Mrs. Suzanne O'Connor Rannells
Retired Kindergarten Teacher


"Developing Roots is the epitome of teaching math to kindergartners that really count! (HA!) This developmentally approach has reached each student in my class. I love it, the students crave it and the parents are impressed! You, the developers, gave ample training and support to this pilot journey of mine. My wonderful school gave every leeway to make it successful. This particular day at school was one I will always treasure. It was our last celebration in kindergarten and my last day to teach. Wow! The children made me a lovely thank you book and guess what the majority of them said?? "Thank you Mrs, Rannells for teaching me math! You rock! " Well I do..because of Developing Roots! In my 40+ years of teaching in the Midwest, East Coast, and finally the South, Developing Roots finally got it right! Teach
math right!! One step at a time...build on each step...use different strategies to achieve the same result...let the student
think on their own and ask questions...allow mistakes…be open-minded… have fun…assess what matters.… grade with
a rubric...differentiate... did I say…have fun?? Honestly, it stretched me to teach it. I had to read and read and understand
and question... Hmmm…. isn't this what everyone needs? Review and application?? My advice to any teacher who will
join the "Rock Star" club…don't miss the train!!"
Martha Newson
Director of Studies Oak Hill School, Nashville. TN
"I can't say enough good things about the Developing Roots math curriculum! Its lessons are engaging, hands-on, and completely developmentally appropriate for our youngest learners. Our kindergarten teachers love the lesson structure following the Explore, Practice, and Reflect model. Since starting the program last August, we have been amazed by the growth in our students" mathematical understanding. We truly believe the Developing Roots curriculum provides the perfect foundation for our school-wide math program. But the best news is... all of our students LOVE math!"
Dr. Carol Smyth
Director of Elementary STEM
"Similar to most districts, we strive to foster the growth of our students as mathematical thinkers and problem solvers who love math and math learning. For a long time, we struggled to find a curriculum and approach which would provide a solid foundation for our kindergarten students. We found our answer in Developing Roots. Through the challenging, hands-on, and developmentally appropriate approach to learning in this curriculum, our students are not only engaged, but also empowered as learners who are developing solid and transferrable understandings, skills, and beliefs about themselves as mathematicians. Our entire learning community could not be happier with what Developing Roots has brought to our students."